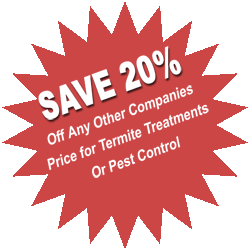 How can we do this?
Hot Topics:
Flying Insects
If you see flying insects inside your house during the springtime, they are most likely subterranean termites. Call us for a free inspection to identify them. Termites are often look like flying ants.
TREATMENTS

Please use the following links to view the information we have provided here for your convenience.

Subterranean Termites
A step by step walkthough with pictures of how a typical treatment of subterranean termites would look like.
Fumigations
Fumigation is the only treatment for drywood termites and wood boring beetles that effectively penetrates the entire structure in one application. It can completely eliminate termites and beetles, even in areas not accessible to spot treatments.
PreConstruction Treatment
Prevention is the best control method for protecting your house. For example, if you are building a new house, make sure there will be several inches (at least) between the soil and any lumber. This distance will force the subterranean termites to build shelter tubes, which are about the width of a pencil, from the ground to reach the wood in your house. The tubes make it easier to find and control areas where termites attack.


Click above to verify our membership in the Better Business Bureau





Click above to verify our license with the California Structural Pest Control Board, a division of the California Department of Consumer Affairs.

The Pest Control Board verifies that we are bonded and carry liability insurance.

Our employees are protected with workers comp insurance.