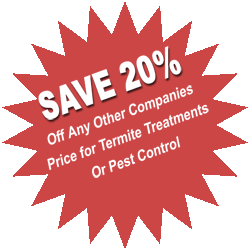 How can we do this?
Hot Topics:
Flying Insects
If you see flying insects inside your house during the springtime, they are most likely subterranean termites. Call us for a free inspection to identify them. Termites are often look like flying ants.
Vikane Fumigations in the Sacramento Area

Even professional inspectors may not be able to find termites behind drywall, wood paneling or insulation.

It's next to impossible to locate every drywood termite colony in floorboards, subfloors, load-bearing beams or the wood framing of your house.

Unfortunately, an infestation in any of these places could mean serious structural damage.

There are several alternative to fumigation that may kill the hidden termites or wood boring beetles in your building. Our inspectors can discuss local treatments or cutting out the infestation.

But ultimately, fumigation is the only treatment for drywood termites and wood boring beetles that effectively penetrates the entire structure in one application.

It can completely eliminate termites and beetles, even in areas not accessible to spot treatments.
The effectiveness of gas fumigation is confirmed by more than 30 years of university research, practical use and published reports. Vikane is the best fumigant currently on the market in California.

The structure will need to be vacated for up to five days during fumigation. Living plants and animals should be removed from the structure. Food, feed and medicinals (anything that could be ingested) should be removed.

This includes medicines, food, drink, toothpaste and wine bottles in which the cork is showing.


Click above to verify our membership in the Better Business Bureau





Click above to verify our license with the California Structural Pest Control Board, a division of the California Department of Consumer Affairs.

The Pest Control Board verifies that we are bonded and carry liability insurance.

Our employees are protected with workers comp insurance.