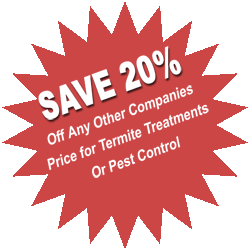 How can we do this?
Hot Topics:
Flying Insects
If you see flying insects inside your house during the springtime, they are most likely subterranean termites. Call us for a free inspection to identify them. Termites are often look like flying ants.
Remodeling & Home Repairs

Our construction division can also perform remodeling and general maintenance repairs on your home. We have a General Contractors License (#653114 issued in 1992) and can complete any work you need done.

Bathroom Remodeling
As homes age, the styles change also. If you're tired of your pink or avocado bathtub, this is a good time to replace it. We can work with you on any changes you would like to make to your home

Kitchen Remodeling
Kitchen cabinets can become worn and battered over the years. Appliances wear out. We can help!
Wood Decks
Add a new deck or replace your weathered existing one. We can use Trex or quality redwood to build a deck that you will be proud of.
Wood Siding
You may not have termites or dry rot in your wood siding, but the chances are it's not as pretty as when you bought the house. We can replace any deterioration and even paint it for you!
Home Repairs
We work with a wide variety of local tradesmen. Please give us a call when you need work done on your home. If we can't do it, we will recommend someone who can.
Our guarantee: "We will never recommend someone who we would not have work on our own home"


Click above to verify our membership in the Better Business Bureau





Click above to verify our license with the California Structural Pest Control Board, a division of the California Department of Consumer Affairs.

The Pest Control Board verifies that we are bonded and carry liability insurance.



Our employees are protected with workers comp insurance through the California State Compensation Fund.