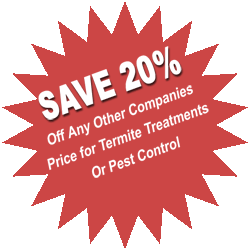 How can we do this?
Hot Topics:
Flying Insects
If you see flying insects inside your house during the springtime, they are most likely subterranean termites. Call us for a free inspection to identify them. Termites are often look like flying ants.
Most people need a termite inspection when they sell their home. Arden Termite specializes in real estate pest inspections and works closely with your Realtor and title company to help close your escrow.
Only a certified Pest Mangement Company can perform a thorough termite inspection, The first step toward termite control.

An Arden Professional Inspector is your best choice.

The purpose of the inspection is to determine where and how termites are entering your home.

Every accessable inch of the house that comes into contact with the ground must be examined.


INSPECTIONS

Please use the following links to view the information we have provided here for your convenience.

Termite Inspections
A step by step walkthrough with pictures of how a typical treatment of subterranean termites would look like.
Preparing for your Inspection
6 easy steps that will ensure your inspector gets the job done the first time.
Frequently Asked Questions
Some answers to the most commonly asked questions by our customers.


Click above to verify our membership in the Better Business Bureau





Click above to verify our license with the California Structural Pest Control Board, a division of the California Department of Consumer Affairs.

The Pest Control Board verifies that we are bonded and carry liability insurance.

Our employees are protected with workers comp insurance.