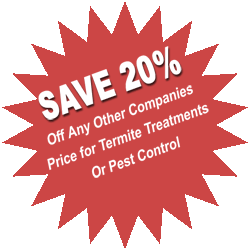 How can we do this?
Hot Topics:
Flying Insects
If you see flying insects inside your house during the springtime, they are most likely subterranean termites. Call us for a free inspection to identify them. Termites are often look like flying ants.
PREPARING FOR YOUR INSPECTION
While it is called a "Termite Inspection" it is officially a "Structural Pest Control Inspection."
In addition to termites, the inspector will also be looking for fungus and water damage and for conditions such as plumbing leaks or earth to wood contact that can lead to termite or fungus damage.
For a complete inspection, there are a few things you can do to prepare for the inspector:
| | |
| --- | --- |
| | Remove any storage from the areas under sinks in the kitchens & bathrooms. |
| | Remove any storage from the area within two feet of the exterior of the house |
| | Remove any storage in the interior of the garage two feet away from the wall. |
| | Trim back any bushes or ground cover that conceals the walls or foundation. |
| | The inspector will need to look in your attic. Be sure the access opening to the attic is not blocked by storage. If the access opening is located in a closet, please remove clothing and storage so that attic insulation doesn't fall on them. |
| | If your home is built on a raised foundation, the inspector will go under the house. Be sure the access opening to the subarea is not blocked by storage. |
Please call (916) 338-4700 if you have any questions.


Click above to verify our membership in the Better Business Bureau





Click above to verify our license with the California Structural Pest Control Board, a division of the California Department of Consumer Affairs.

The Pest Control Board verifies that we are bonded and carry liability insurance.

Our employees are protected with workers comp insurance.