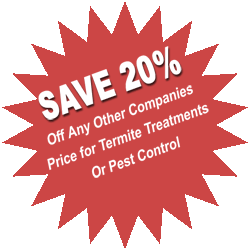 How can we do this?
Hot Topics:
Flying Insects
If you see flying insects inside your house during the springtime, they are most likely subterranean termites. Call us for a free inspection to identify them. Termites are often look like flying ants.
CONTACT US
To schedule an inspection, treatment or repairs, please call us at (916) 338-4700

or use our contact form

Our FAX number is (916) 338-0500

Our office is located at:

5777 Madison Avenue, Suite 820 (Between Hackberry and Manzanita)
Sacramento CA 95841


Click above to verify our membership in the Better Business Bureau





Click above to verify our license with the California Structural Pest Control Board, a division of the California Department of Consumer Affairs.

The Pest Control Board verifies that we are bonded and carry liability insurance.

Our employees are protected with workers comp insurance.